Current Affairs & News Update 7 August 2015
1. UPTU renamed as APJAKTU
UP Technical University renamed as A.P.J. Abdul Kalam Technical University on 04th August 2015 as approved by the State Cabinet of Uttar Pradesh.
2. Egypt has launched a major expansion of the Suez Canal.
It was inaugurated by Egyptian President Abdel Fattah al-Sisi in a lavish ceremony held at port city of Ismailiya ( located on west bank of canal). Suez Canal expansion project The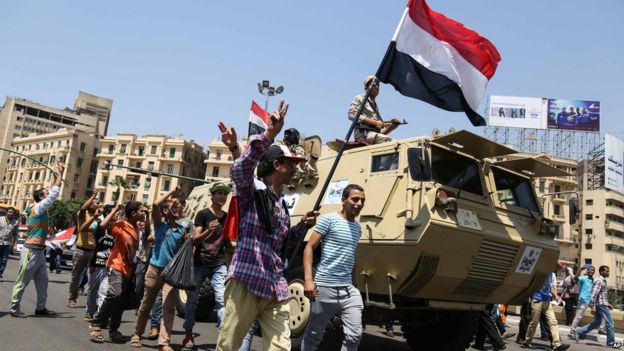 project was started in August 2014 for the expansion of the Ballah Bypass from 61 metres to 312 metres. The project was dubbed as the New Suez Canal. Expansion aims to increase the traffic handled by the canal in order to boost Egypt's economy and global standing by turning the Suez Canal zone into a global logistics and trade center.
3. IS seizes central Syrian town of Qaryatain
The radical militants of Sunni Islamist militant group Islamic State (IS
) have seized Qaryatain, a key town in central Syria. It was seized following heavy clashes with Syrian forces. It is IS's biggest advance after it had captured the historic town of Palmyra in May 2015. The town of Qaryatain lies southwest of Palmyra and it is heavily populated town with a mixed population of around 40,000 Sunni Muslims and Christians, as well as thousands or internally displaced people. Read More
4. RBI allows banks to merge, shift or close branches in urban areas
Reserve Bank of India (RBI) has taken decision to allow banks to merge, shift or close branches in urban areas on their own discretion. In this regard, RBI has issued a notification mention provisions of above decisions. This move will allow banks greater operational freedom but it won't be valid for rural areas.
5. Lok Sabha has passed Negotiable Instruments (Amendment) Bill 2015 by a voice vote.
The bill seeks to amend The Negotiable Instruments Act, 1881 in order to make cheque-bounce filing of cases more convenient for check payees (person who receives the cheque). The bill also seeks to replace an ordinance which was re-promulgated in this regard earlier in May 2015 after it was not passed in Rajya Sabha, though it was passed by the Lok Sabha in the May 2015. Key features of Bill Adds provision to specify the territorial jurisdiction of the courts in cases related to bouncing of cheques which was not present in the parent Act.
6. Colonel Harwant Singh (Retd), World War-II hero passes away
Retired Colonel Harwant Singh, a World War-II veteran and hero passed away in Patiala, Punjab. He was 95. He was commissioned in 2nd battalion of the Sikh Regiment of then British Army in September 1941. During the World War (WW)-II he had served in Palestine, North Africa, Iraq, Cyprus and Italy for the British Army. In 1944, he was awarded with the Military Cross (highest award of the British Army) for gallantry during an offensive against the German forces on the Gothic Line in Italy. During the first Independence Day celebration of 1947, he was officer in charge of the flag-hoisting ceremony held at Princess Park on August 15 and Red Fort on August 16.
7. ISRO to launch 9 nano/micro US satellites during 2015-16
Indian Space Research Organisation (ISRO) will be launching 9 nano/ micro satellites of United States (US). This will be the first time in ISRO's history it will launch US satellites. In this regard the commercial arm of ISRO, Antrix Corporation Ltd has signed agreement to US. For this mission the apex space agency of India will be using its indigenous workhorse Polar Satellite Launch Vehicle (PSLV). It should be noted that, till date ISRO has launched around 45 satellites belonging to international customers from 19 countries using PSLV. Read More
8. Russian journalist and social activist Zhanna Nemtsova was awarded with Poland's Solidarity Prize 2015.
She was bestowed with this award for championing (promotion and protection) democracy and human rights. Zhanna is the daughter of slain Russian statesman and liberal politician Boris Nemtsov who was assassinated by unknown assailants on February 27, 2014. Presently, she is working for Berlin based German broadcaster Deutsche Welle in the Russian department. Earlier she has worked with Russian business news channel RBK. She had left Russia in June 2014 after her father's assassination. About Solidarity Prize It is Polish award for promotion and protection of democracy and civil liberties. Read More
9. NASA inks US $490 million contract with Russia for ISS travel
National Aeronautics and Space Administration (NASA) has extended a contract worth US $490 million with Russian Federal Space Agency (Roscosmos) to carry US astronauts to the International Space Station (ISS). This contract was extended after lack of Congressional funding. Under the new contract Roscosmos will to take astronauts to the orbiting outpost in the space till 2019. NASA has been dependent on Roscosmos for access to ISS after it had ended its space shuttle program in July 2012.   It was left no other option it lacked funding for development of private vessels by US companies like Boeing and Space-X over the last five years. Read More
10. Visa to test new mobile payments service app mVisa in India
The American global payments technology solution firm Visa Inc to test its pilot app-based mobile payments service 'mVisa' in India. mVisa app enables users to transfer money and make micro payments for services through mobile. Visa chose India for its pilot app as Indians does the highest e-commerce transactions over mobile in the world. This app will provide service from September and has tied up with about 20,000 merchants in Bengaluru and prime banks of India. Through this app company aims to replace physical points of sales (PoS) with mVisa. In India Visa has over 1.1 million physical points of sales (PoS). Recently Visa has provided near field communication payment service to iPhone. About Visa Inc: It is California based multinational financial service provider that provides electronic funds transfers throughout the world. It facilitates electronic funds transfers through its credit and debit cards branded as VISA. Note: Visa doesn't issue cards or set rates and fees or extend credits for consumer it is done by banks; it only provides a service to access financial transactions. Read More